Slide System Support
Specification information.
SLIDE BASIC COMPONENTS
---
With the three structural rail elements available in the Slide Sign System, you can configure virtually any modular sign for unlimited creative flexibility. Because rail faces are identical, any insert can be used. End caps, accent strips, frames, top and bottom trims and insert options allow for infinite creative flexibility within a system that is elegantly simple.
Color and form can say as much as words and graphics. 2/90 offers a broad range of aesthetic options that help you create an impression even as you're delivering information and helping people navigate your building. Seventeen standard mounting options empower you to seamlessly integrate signs into any architectural environment. Tamper-resistant features ensure that your design vision will withstand the rigors of time.
Details
---
Material: Black extruded aluminum.
Size: Rails are 2", 3" or 4" in height for Thin and Standard profiles; 6" high rails are also available for Standard profile. Standard profile rails are available in any width up to 90"; Thin profile rails are available in any width up to 40".
Configurations: Minimum height is 2" and can increase in 1" increments. Signs can be installed next to each other to create larger widths. Slide Profiles: Specify Thin, Standard or Box rail.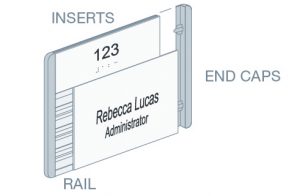 1. Determine Profile
Three choices have your needs covered.
Choose Thin Slide for workstation and identification signs. For larger signs, select Standard Slide. And for large directories and ceiling mount signs, use Box Rail Slide.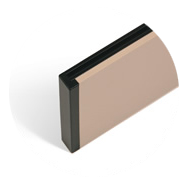 Thin Rail
A popular choice for identification and regulatory signs.
Rail accepts inserts on face side only
9/32" thickness.
Recommended maximum insert is 400 square inches.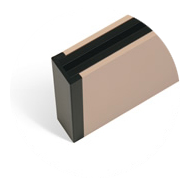 Standard Rail
A great option for larger directories, flag-mounted, and two-sided ceiling mounted signs.
Rail accepts inserts on both sides
9/16" thickness.
Recommended insert size is 400-2,000 square inches.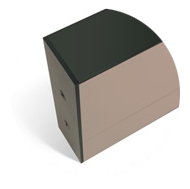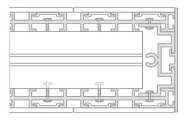 Box Rail
Great for extra-large signs.
Rail accepts inserts on both sides. 2" or 3 1/4" thickness. For heavy-duty interior signs
Recommended insert size is 2,000-5,400 square inches.
2. Determine Sign Type
Select sign size and insert configuration.
How to Read Part Number
---
Initial Letter Portion:  Insert area; height by width
Letter Portion: Insert configuration
For example, a 2x6B sign has a total insert area of 2″ high by 6″ wide, with the letter B designating two- 1″x 6″ inserts. Overall sign dimensions including end caps, mount, and accessories, vary depending on options selected. Contact Client Services for exact dimensions.
3. Choose End Cap Design
Choose from seven styles of painted or satin aluminum finish.
Secure copy inserts with seven end cap styles.
Material: Aluminum for Standard and Thin styles; 2", 3" and 4" Round Corner and 2" Slimline painted end caps are ABS plastic.
Application: End caps secure inserts to rail. End caps are removable with an optional tamper-resistant locking feature.
Style: Choose from seven styles with painted or satin aluminum finish. Satin aluminum finish not available for Round Corner.
Slimline (SL)

Square Corner (SC)

Round Corner (RC)

Waterfall (WF)

---

Bullnose (BN)

Angleback (AB)

Stepback (SB)
4. Pick an Insert Finish
Choose from 100 standard materials
Slide Modular inserts "slide" onto the structural rail and are secured by end caps.
View Laser Print Template Downloads
*Exposed channels on Window Inserts are black. Additional colors available, including satin natural aluminum finish.
Painted ABS (Prism, Metallics and Custom Colors)
Window Insert with Paper and Protective Lens (Papers)*
Woodgrain Laminate (Woods)
Aluminum (Metals)
GloSign (Photoluminscent)
Subsurface (Graphics and paint secured in carrier behind Lexan)
Jewel (Subsurface paint)
ADA Photopolymer (Integral dimensional graphics top-coated)
ADA Subsurface (Integral dimensional graphics painted subsurface)
Create Your Own (Our insert carrier accepts material up to .03″)
5. Select Graphics
Create one-of-a-kind graphics.
Copy Options
---
Choose from nine copy options including our newest and most popular, Direct Print. For ADA compliancy, we offer three ADA copy options to fit a variety of insert materials and needs.
ADA – Integral

Photopolymer is adhered to an insert base to make a one-piece sign with sharp images and precise details. Insert is painted to match our standard Prism and Metallic colors and can also be color-matched.
ADA – Applied
Applied graphics use standard inserts to provide color and texture consistent with other non-ADA facility signage. Applied is the standard ADA copy option for laminates and custom materials.
ADA Subsurface
Subsurface graphics are sealed with a laminate, producing raised images with rounded edges for a "soft touch" look and feel. Insert color is also subsurface.
Direct Print

Our most popular copy application is direct print. VOC-free, ultra-violet cured inks are digitally printed directly to insert material. Recommended for photo-quality graphics and logos.
Vinyl

Surface-applied vinyl is our traditional copy option, offering you the flexibility to remove obsolete messages and reuse copy inserts. Available in select gloss colors and all standard or custom matte colors.
Laser Print

Laser print graphics are available on paper inserts and protected by a clear lens. Customer may order pre-printed paper inserts or print their own. Standard paper colors are available in popular insert sizes; other sizes may require longer lead times. For paper refills refer to page 7 for Slide and page 15 for Arc. Custom paper is available.
Subsurface

Reverse-cut print is applied to the back of polycarbonate. Insert is back sprayed with paint and secured with high-performance adhesive in an aluminum extruded carrier.
Silkscreen
A photo image is applied to a screen placed on the sign surface material, and ink is spread onto the screen. When the screen is lifted, a printed image remains. Silkscreen is recommended for metallic colors if vinyl is not an option.
Engraved
Engraved copy is available in black or white. ABS inserts are painted any standard or custom color, and the engraved copy letters show up in the original color of the insert.
Copy Color

---
Choose from over 80 standard colors. Don't see the color you need? Give us a ring, we'll color-match it for you.
Worried about meeting ADA requirements? Worry no more.
Copy Size
---
2/90 recommends choosing a copy size no more than half the height of the insert to accommodate letters that drop below the baseline. Copy size is also determined by the message and insert length. Use our copy capacity chart for reference.
Download Copy Capacity Chart Spec Sheet
Copy Position
---

Indicate (L) for left, (C) for center and (R) for right margin. Copy position may be further defined by adding (U) for upper and (L) for lower justification.
Copy Case
---
The default copy case is for upper and lower characters. Specify abbreviation for desired copy case: Upper and Lower Case (U/L) ALL CAPS (AC) all lower case (LC) AS typed (AT)
6. Choose Mounting Options
Installation that works.
2/90 Sign Systems offers 17 standard mounting options to meet a variety of installation applications for office furniture, vertical surfaces and ceilings.
Illustrations depict mount with the Standard Slide Modular Sign System; Thin Slide, Arc and Klik mounts may vary. Custom mounting options are available.
* Not available for Thin Slide
7. Optional Accessories
Dress up your sign.
2/90's Sign Systems are the most versatile sign products on the market. This allows our products to accommodate needs in the market place. Here are a few of our standard options. Do you have another need, let us know – Maybe it will become our next standard option!
SmartInsert™
---

Does your sign need the flexibility to display multiple messages? Sliding inserts reveal or conceal messages when needed. Typically used to indicate availability in conference or meeting rooms, any sign with an insert ranging from 1″ to 4″ high can be used as a sliding insert.
Pen Holder
---

Signs with dry erase material can benefit from adding a Pen Holder to house the elusive dry erase marker. Pen holder is mill finished aluminum, painted black. Other colors are available.
SmartStrip™
---

SmartStrips™ hold messages securely, providing a flexible solution for temporary room identification, notifications, or an in-box. To remove the message, simply lift it up and slide to side. SmartStrips™ are available as an integral part of the sign or sold separately. When purchased separately, they can be installed next to a sign or used alone to hold messages or postings. SmartStrip™ accepts laminated messages. Available in Satin Natural Aluminum finish with black caps.
Notched-End Cap
---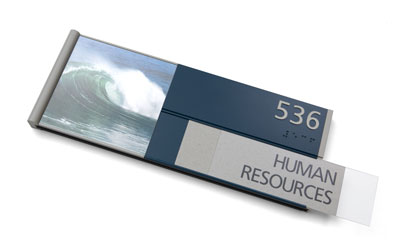 For window inserts with paper that need to change often, we recommend the notched-end cap. The paper and protective lens slide off easily without removing the end cap. This feature is available with Slimline end cap style in satin natural aluminum finish or painted colors.
Trim Options
---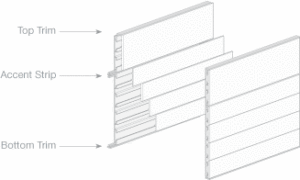 Add contrast to your design with Top/Bottom Trim and Accent Strips. Available painted and Satin Natural Aluminum finish.