Frame™
Modular Sign System
Meet Frame – A Dynamic Flex-Fit Modular Sign System.
2/90 Frame Modular Sign System is a picture-perfect solution for the new VA Design Manual's "flex-fit" component-based sign system.
2/90 Frame accommodates front-loading inserts that fit securely in a precision-built frame assembly with hidden spring clips.  Each component within the frame system can be replaced, reconfigured, or updated so the sign can evolve with facility changes.
FRAME "FLEX-FIT" SYSTEM SPECIFICATIONS
ALUMINUM FRAME DESIGN.

FRONT-LOADING GRAPHIC INSERTS.

INSERTS SECURED BY HIDDEN TEMPERED STEEL SPRING CLIPS.

EXTRUDED ALUMINUM FRAME ALLOWS FOR ANY SIZE SIGN.

FRAME ACCEPTS HORIZONTAL AND VERTICAL ACCENTS.

FRAME ACCEPTS VARIOUS INSERT CONFIGURATIONS AND MATERIALS.

STANDARD ANODIZED ALUMINUM FRAME OFFERS A BEAUTIFUL FINISH.

FRAME CAN ALSO BE PAINTED IN ANY OF 2/90'S STANDARD 60 COLORS, VA COLORS, OR CUSTOM COLOR-MATCH.

ALL PARTS CAN BE EASILY CHANGEABLE.

ENVIRONMENTALLY FRIENDLY WITH RECYCLED ALUMINUM COMPONENTRY AND SUSTAINABLE CERTIFIED WOOD ELEMENTS.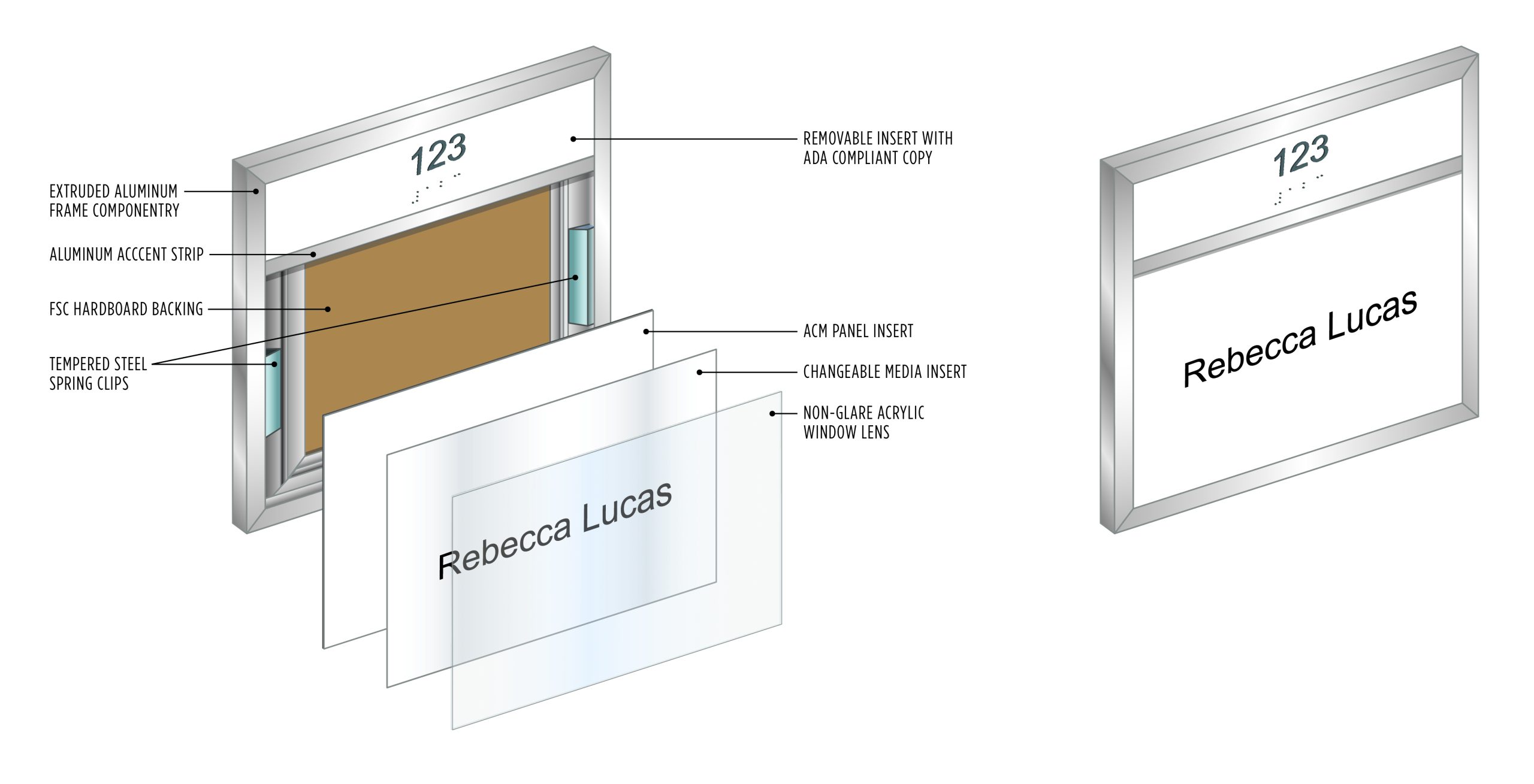 Highly Customizable
Choose from a variety of add-ons and accessories.
Vertical and Horizontal Accent Strips
The frame offers the option to incorporate Vertical and Horizontal Accent Strips, allowing for customizable design elements and a range of insert configurations.
Paper Inserts
Effortlessly keep your information up-to-date by using custom-printed paper inserts. Our Frame modular signs are designed to accommodate any document, photograph, or graphic image printed on standard paper sizes. At 2/90 Sign Systems, we offer a range of die-cut perforated paper in various sizes, colors, and textures. To change the insert, simply slide it to the side of the frame to release the paper insert and protective lens.
VitalSign
Self-contained messages on your VitalSign board can be changed with a magnetic tool – reducing the need for touch to the sign's surface.
SmartStripTM
Hold a variety of messages by adding our SmartStrip accessory to your signs. SmartStrip is available as an accessory to any of our signs or can be purchased separately. When purchased separately, they can be installed next to a sign or used alone to hold messages or postings.
SmartInsertTM
Display different messages, revealing or concealing them when needed. Any sign with an insert ranging from 1" to 4" high can accommodate a Reveal Insert accessory.