Klik System Support
Support and specification information.
3. Select Graphics
Choose from eight copy options including our newest and most popular, Direct Print. For ADA compliancy, we offer two ADA copy options to fit a variety of insert materials and needs.
Copy Options
---
Choose from eight copy options including our newest and most popular, Direct Print. For ADA compliancy, we offer three ADA copy options to fit a variety of insert materials and needs.
ADA – Integral

Photopolymer is adhered to an insert base to make a one-piece sign with sharp images and precise details. Insert is painted to match our standard Prism and Metallic colors and can also be color-matched.
ADA – Applied
Applied graphics use standard inserts to provide color and texture consistent with other non-ADA facility signage. Applied is the standard ADA copy option for laminates and custom materials.
Direct Print

Our most popular copy application is direct print. VOC-free, ultra-violet cured inks are digitally printed directly to insert material. Recommended for photo-quality graphics and logos.
Vinyl

Surface-applied vinyl is our traditional copy option, offering you the flexibility to remove obsolete messages and reuse copy inserts. Available in select gloss colors and all standard or custom matte colors.
Laser Print

Laser print graphics are available on paper inserts and protected by a clear lens. Customer may order pre-printed paper inserts or print their own. Standard paper colors are available in popular insert sizes; other sizes may require longer lead times. For paper refills refer to page 7 for Modular and page 15 for Arc. Custom paper is available.
Subsurface

Reverse-cut print is applied to the back of polycarbonate. Insert is back sprayed with paint and secured with high-performance adhesive in an aluminum extruded carrier.
Silkscreen
A photo image is applied to a screen placed on the sign surface material, and ink is spread onto the screen. When the screen is lifted, a printed image remains. Silkscreen is recommended for metallic colors if vinyl is not an option.
Engraved
Engraved copy is available in black or white. ABS inserts are painted any standard or custom color, and the engraved copy letters show up in the original color of the insert.
Copy Color
---
Choose from over 80 standard colors. Don't see the color you need? Give us a ring, we'll color-match it for you.
Worried about meeting ADA requirements? Worry no more.
Copy Style
---
Choose from a large selection of visual and decorative fonts along with several ADA-compliant fonts. If you don't see your favorite, contact Client Services for more options.
Download Copy Style Spec Sheet
Download Laser Print Copy Style Spec Sheet
Copy Size
---
2/90 recommends choosing a copy size no more than half the height of the insert to accommodate letters that drop below the baseline. Copy size is also determined by the message and insert length. Use our copy capacity chart for reference.
Download Copy Capacity Chart Spec Sheet
Copy Position
---

Indicate (L) for left, (C) for center and (R) for right margin. Copy position may be further defined by adding (U) for upper and (L) for lower justification.
Copy Case
---
The default copy case is for upper and lower characters. Specify abbreviation for desired copy case: Upper and Lower Case (U/L) ALL CAPS (AC) all lower case (LC) AS typed (AT)
4. Choose Mounting Options
Choose from 15 options for wall, cubical and ceiling installations.
The Klik Modular Sign Systems includes 13 standard mounting options to meet a variety of installation applications for office furniture, vertical surfaces and ceilings.
At 2/90 Sign Systems we're all about options. If you have a need, let us know – it may even become a standard.
SmartStrip™
---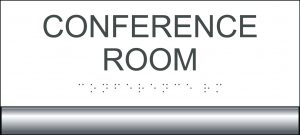 SmartStrips™ hold messages securely, providing a flexible solution for temporary room identification, notifications, or an in-box. To remove the message, simply lift it up and slide to side.
SmartStrips™ are available as an integral part of the sign or sold separately. When purchased separately, they can be installed next to a sign or used alone to hold messages or postings. SmartStrip™ accepts laminated messages.
Available in Satin Natural Aluminum finish with black caps.
SmartInsert
™
---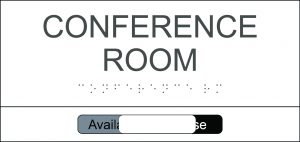 Does your sign need the flexibility to display multiple messages? Sliding inserts reveal or conceal messages when needed. Typically used to indicate availability in conference or meeting rooms, any sign with an insert ranging from 1″ to 4″ high can be used as a sliding insert.